I'm realizing that I'm a bit of a tip junkie.  Being the analytical person that I am, I've wondered "why?"  I think it's because it makes me feel like I'm being let into a world of secrets.   A world that makes life easier and makes you feel clever.
But the cool thing about tips is that they are meant for sharing!  The tip world may be a world of little secrets, but it's not a secret world.  Make sense?
So, today I want to share a few of my favorite tips that I've recently discovered
in Hair, Fashion and Makeup
Aquage uplifting foam does wonders for creating volume.
Between my hairstylist  and  Kate  from The Small Things blog, I decided it was worth a try.  Speaking of Kate, that brings me to my second favorite tip…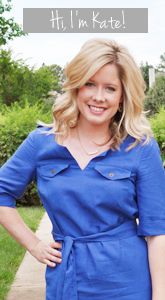 Kate's blog is full of hairstyling tips and tutorials.  That works well for me since I have an obsession with hair.
in Shopping
If you follow me on Facebook, twitter or google plus, you might have seen this link to my feature at Be @ Home Decor blog. I still feel like I need someone to pinch me.  In the process of preparing for the feature, I discovered my next tip.
Be @ Home has a tip center filled with buying advice and shopping tips which features anything from tips on moving, to baking to organization.
and last night, Red Head Can Decorate shared a great  link from Holistic Homemaking on saving big when you shop Target. 
and in Home Decor/D.I.Y. 
I'd really like to put a planter box under this window.
but I'm hesitant to drill in the brick.  Well, imagine my delight when I saw this tip on Pinterest.
Brick clips!  You can hang things on brick without drilling.
Have you discovered any cool tips lately?
Until next time,
Sharon
I'm linking to:
Busy Monday @ A Pinch of Joy
The following two tabs change content below.
After 17 years in an elementary classroom, Mrs. Hines retired from teaching to pursue her passions: decorating, writing and homemaking. While her formal education is in teaching, she discovered her talent for design at a young age and is a self-taught decorator. Mrs. Hines' DIY spirit has earned her appearances on the show Deals which airs on the Live Well Network. She continues to teach and inspire on her popular Lifestyle blog, Mrs. Hines' Class. Homemaking is Mrs. Hines' first love. So, when she isn't decorating or writing, you can find her at home watching television with Mr. Hines or trying to keep up with her teenaged daughter.
Latest posts by Mrs. Hines (see all)