Welcome to another edition of "pin there, done that" where I turn my pins from Pinterest into reality and review them here with you.
Last week, I decided that I was tired of looking at the stains on the carpet. There were so many stains that it seemed like a good time to test a couple of pins from my cleaning tips board to find which DIY stain remover works best.
The Scrub Method:
I wasn't sure I was up to scrubbing, but it turned out not to be so bad. I really didn't have to scrub much since the stain almost immediately vanishes once you start scrubbing.
The Steam Method:
My eyes literally widened in disbelief when I lifted the towel from the stain. I was like a child mesmerized and fascinated, begging "do it again!"
I continued the comparison test on a couple more stains just to be thorough. So, which one passed the test? Well, I've "pin there, done that" and while the steam method works well, the scrub method using Dawn dish liquid and hydrogen peroxide gets an A+.
You can see the results by moving your mouse on and off of the picture.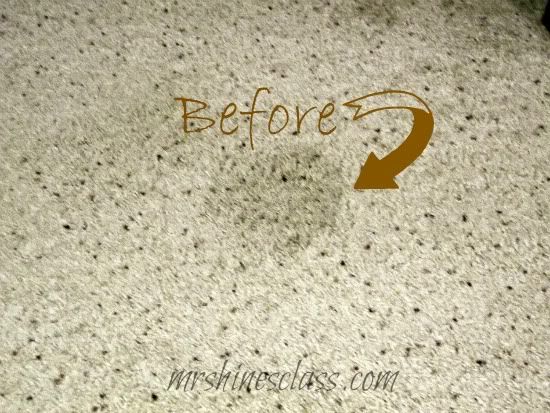 Here are a couple more tips to consider when tackling carpet stains:
~clean from the outside of the stain working inside
~blotting is gentler on your carpet than scrubbing
If you try these DIY stain removers, I'd love to hear which one you prefer.
Until next time,
Sharon