It's the first day of Spring!  To celebrate, I'm going to share the gardening process from planning to planting.  Let's get right to it!
First, know your hardiness zone.  This information will tell you which plants will thrive in your climate conditions.  To find your hardiness zone, visit this site and enter your zip code.
How much sun does your planting area receive?  This will determine what types of plants you should buy.

TIP: to save money on plants, you can start many annuals and perennial flowers from seeds.  You may also have a friend or family member who will give you cuttings from their plants.  I've even seen plants for sale in the classifieds.  Many of my first shrubs and perennials were transplants from my family, saving me lots of money.


Remember to incorporate color and texture into your garden.  Do you prefer a monochromatic color palette, or lots of color?  Leaves as well as flowers and their shapes lend interest and texture.

Now that you've done a little research and picked out your plants, we're ready to put them in the ground.  First, play with the arrangement of your plants, while still in their pots, until you find a garden design you like.     Arrange plants in triangle form to get a fuller look.


TIP: Plants come in quarts, gallons, 3 gallons, and so on.  the smaller size you buy, the more money you save.  This is especially a great way to save money of fast growing plants.


Remember to allow plenty of spacing for plant growth.  You can find spacing recommendations as well as information on how often to water, the mature size of the plant,  sun requirements on these  little  plant tags.


Gather your gardening tools.  You will need a cultivator, trowel, gardening gloves and a kneeling pad.


Then follow these simple steps:

1.  Gently pull the pot off of the plant.
2.  Use your fingers to break up the root ball and loosen the roots.
4.  Dig a hole twice as wide and as deep as the root ball.
5.  Place the plant in the hole.



TIP:  You can add a starting solution such as Quick Start to your young flowers before you refill the hole with dirt.  It helps tender plants and transplants get off to a quick start and helps to prevent them from going into shock.

Backfill the hole with soil, and water.  Continue to water your new plants daily until well established.  Before you know it, you'll be enjoying a lush landscape!
See you in class,
Mrs. Hines
I'm sharing my garden tutorial at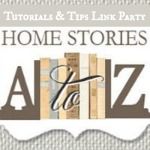 The following two tabs change content below.
After 17 years in an elementary classroom, Mrs. Hines retired from teaching to pursue her passions: decorating, writing and homemaking. While her formal education is in teaching, she discovered her talent for design at a young age and is a self-taught decorator. Mrs. Hines' DIY spirit has earned her appearances on the show Deals which airs on the Live Well Network. She continues to teach and inspire on her popular Lifestyle blog, Mrs. Hines' Class. Homemaking is Mrs. Hines' first love. So, when she isn't decorating or writing, you can find her at home watching television with Mr. Hines or trying to keep up with her teenaged daughter.
Latest posts by Mrs. Hines (see all)