Jerry the mailman came at the same time every day.
As soon as my siblings and I heard the stop and start of the mail jeep, we'd run outside to greet him, four voices talking at once, eager to share the latest news.  We grabbed the mail out of the mailbox as soon as Jerry drove away.
Excited, we would start looking through the stack of mail to see if there was anything addressed to us:  a birthday card, a letter from a long distance cousin, our report cards…anything.
"There's nothing," we'd report as we handed the mail off to Mom.
Obviously there was something, because there were notes scribbled on envelopes, and important papers flowing from the mail sorter that hung on the kitchen wall next to the phone…mail, sort, miscellaneous the sorter read.
Now that I'm all grown up with a household of my own, I imagine that getting the mail wasn't nearly as exciting for Mom as it was for me.
Frankly, mail has been a thorn in my side for far too long.
I typically put off checking the mail until the weekend because I just don't want to do deal with the paper clutter.  Remember yesterday, I mentioned that one of the reasons I procrastinate is because I don't have a system in place?  But, I think I've finally got a system that will control the paper clutter at home.
The first thing I do when we bring in the mail is to sort it into one of three categories: Recycle, Shred or Save.
Recycle
First, I pull out all of the circulars, advertisements and local magazines and immediately place them in the recycle bin.  Our recycle bin is located just on the other side of the door leading to the garage, in close proximity to where I sort mail.
Shred  
Next, I pull out anything that looks like a credit card offer, or a voucher for thousands of dollars, or a sweepstakes.  I open everything in the shred pile to double-check that I haven't mistaken a bill or something important as junk mail.  I learned that lesson the hard way…
Once I've done that, it all gets shredded and thrown away.
Save
I've dedicated a basket on the desk for "in process" items like my garden plans that I need to refer to often or the jury summons that I got in the mail yesterday.
Bills are relegated to the bill center where I also keep my checkbook, envelopes and stamps.  And mail regarding medical care, insurance policies and such land in the "to-file" sorter.
Ideally I will file once a week.  I still need to streamline my filing system.
Invitations get pinned to the memo board until I get a chance to RSVP.  Once I respond, I record the date and address on the icalendar, and the invitation gets recycled.
So far this system is working.   I'm sharing my tips at the Twirl and Take a Bow  link party.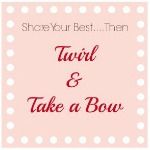 Do you have a sorting system that works for you?  I'd love to hear any tips you have on keeping the paper trail under control.
For more posts in my 31 Days to Finished series, click here.
See you in class,